Friday, June 6th, 2014
Teens hospitalized after abusing cold medicine
By Kathy Thompson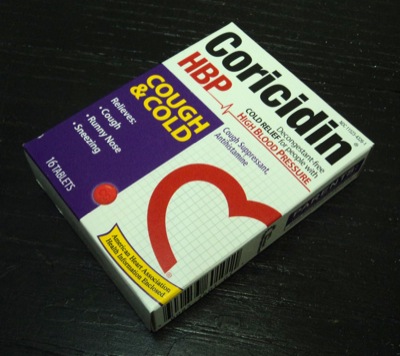 CELINA - Two area teens reportedly are recovering at a hospital in Dayton after overdosing on over-the-counter cold medicine trying to get high.
In all, four Celina teens were found to have abused Coricidin Cough and Cold medicine, known on the street as "Triple C," according to Celina Police Chief Tom Wale.
"I'm afraid this may be the tip of the iceberg," he said.
Abuse of the drug has been reported nationally for several years. One package of 16 tablets can be purchased for less than $10; the small container is often stolen off shelves, officials said.
The local investigation began this week after police were notified by the mother of a Celina High School student who was concerned her child was taking the cold medication.
The teen was transported to a local hospital because she wasn't acting "quite right," Wale said. After speaking to her, officers determined several other teens in the area may also have abused the drug, he said.
Three more teenagers were located and all were transported to local hospitals. Two were taken to Children's Hospital in Dayton; the remaining two were eventually dismissed.
The pair at the Dayton hospital are expected to recover, Wale said.
Coricidin contains dextromethorphan - called DXM or DM - and is used to treat symptoms from colds or upper respiratory allergies. It was first manufactured years ago to replace over-the-counter sales of codeine and is available in tablet form.
The tablets make it easy to ingest large quantities, said Dr. Thomas Krzmarzick, director of emergency at the Dayton hospital. High doses of the drug can result in an increased body temperature, nausea, abdominal pain, vomiting, irregular heartbeat, high blood pressure, headaches, numbness of toes and fingers, loss of consciousness, seizures, brain damage and death, he said.
Krzmarzick said he hasn't seen an increase in teens overdosing on this particular medication but knows of at least five deaths in the past 10 years.
"It can be scary," he said, adding it first came on the market in the 1970s and teens began abusing it about 30 years later. "It's an easy drug to get. Either they get it out of the family medicine cabinet or they go to the store, pretend they have a cold or cough, and get it."
Krzmarzick said teens call it "robo tripping" or "dexing" because it gives them a feeling of being "out of body, losing a little of their motor control and even experiencing hallucinations."
"They'll take a whole (package) because it's easier than taking nasty cough syrup," he said. "What they don't realize is how dangerous that is. They can die."
He said he was shocked when he looked up the drug on the Internet.
"I never expected to find websites telling exactly how many pills to take to get high," Krzmarzick said. "I was just amazed when I found them. They're (websites) facilitating getting high off these drugs and that's purely amazing."
Krzmarzick said parents should monitor the medications they have in their home and the amounts. He also suggests monitoring a child's use of the Internet to see if he or she is purchasing drugs online or searching for information about them.
"If you find cold medicine in your child's room, you should get concerned," he added. "The most important thing you need to do is talk to your child. Make sure you tell them this stuff can kill you."
Krzmarzick said parents have to be vigilant.
Mercer County Sheriff Jeff Grey said he hasn't received any reports of teens abusing Coricidin. He agrees with the suggestion to parents to keep tabs on in-home medications.
"All can be deadly," Gray said. "One drug can lead to another. Just because you don't have a prescription (drug) doesn't mean it can't be abused."
CVS Pharmacy in Celina requires customers to be at least 18 years old to purchase Coricidin, according to Mike DeAngelis, director of public relations for the company.
"We enacted an age restriction on the sale of all products that contain the cough suppressant DXM several years ago," he stated.
DeAngelis said some CVS stores choose to keep the product behind the counter as an anti-theft measure.
Wale is concerned some stores display such items in areas too easily accessed by youth. He is hoping those businesses will begin placing Coricidin behind the counter.
"We'd like to see this drug kept away from the general public and behind the counter," Wale said. "It will make it a lot tougher for the kids to get."