Friday, June 6th, 2014
Wild finish sends Cavaliers to title game
Division III State Baseball Tournament Semifinal
By Gary R. Rasberry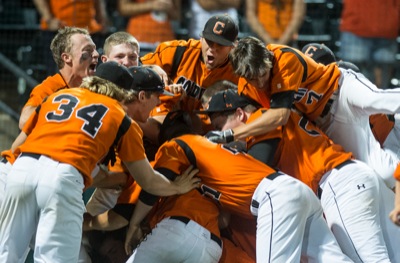 COLUMBUS -  It was a sweet pickle for Coldwater.
Adam Klosterman scored on a wild throw in the bottom of the 10th inning to send the Cavaliers to the state championship game with a 3-2 win over Wheelersburg at Huntington Park in Columbus.
Coldwater (29-4) takes on Cincinnati Hills Christian Academy Saturday at 1 p.m. The Eagles defeated Orrville 3-0 as Cameron Varga pitched the 12th no-hitter in state final four history. The Pirates, who were looking for a third straight state title, end the season at 24-7
Klosterman led off the bottom of the 10th with a walk. Aaron Harlamert laid down a bunt and all hands were safe as Klosterman slid into second before the throw. Coldwater elected to bunt again, but Matt Kramer popped up the ball to a diving Wade Miller for the first out.
With Mitch Schoenherr at the plate, Klosterman was caught too far off second when Miller went for the pickoff. Klosterman was caught in a rundown and was nearly tagged for the second out, but third baseman Zach Russell's throw to second was wild and went into the outfield. Klosterman rounded third and headed home, with an excited coach Brian Harlamert nearly step-for-step with his senior shortstop as he touched home.
"Coach said they would be looking for the wheel (pickoff play)," Klosterman said. "I kind of got stuck and thought 'oh, boy'. I got in the rundown and hoped they'd throw it away. They did and I scored."
The wild finish completed a game that was truly a pitchers' duel between Coldwater starter Derek Thobe and Wheelersburg ace Miller, who was pitching in his third state tournament. The pair had matching no-hitters through four innings
"We did our job. We pounded the zone like we've been told (to do) all season," said Thobe, who pitched 5 2/3 innings of one-hit baseball in getting the no-decision. "Defense made some great plays."
Thobe had some control issues, walking two and hitting a batter in the first three innings, but the defense stepped up as Drew Otten snagged a line drive in the first inning to start a double play and Mitch Heyne grabbed another to end the third inning.
"He wasn't at his best, but maybe he can rest and possibly give us something on Saturday," said coach Harlamert. "Our seniors made plays all night long."
Meanwhile, Martin kept rolling, retiring the first nine batters in order on 32 pitches with four strikeouts. Coldwater finally got a baserunner on when Malave Bettinger reached on a bad throw from third baseman Zach Russell in the fourth, but Heyne flew out to right to end the threat.
"We knew he was going to throw fastballs," coach Harlamert said. "He was around the zone and hard to time him up. He was very good."
The tide began to turn in the bottom of the fifth. Grant Muhlenkamp led off with a deep shot to right-center, the deepest part of Huntington Park, sliding in for a triple. Klosterman popped out to short for the first out. Harlamert stepped in and dropped a perfect squeeze bunt that not only scored Muhlenkamp but also allowed him to reach first safely for the single. Kramer followed with a bunt of his own, sliding in safely to put two on for Mitch Schoenherr.
The Cavalier rally came to a stop when Aaron Harlamert was picked off second by Martin.Kramer, who was between first and second when Harlamert was tagged, could not get back to first in time and was tagged on the unusual double play.
"We had a lot of bad luck at times, but our heart and passion allowed us to hang in there. We got lucky," coach Harlamert said. "Sometimes you make your own luck."
Thobe's no-hitter was halted with one out in the sixth as Garrett Carmichael singled to the left side of the infield. Thobe got Martin to fly to center but walked Dylan Miller on four straight pitches to put the winning run on first. Harlamert pulled Thobe after 91 pitches and brought in Muhlenkamp from left field to face Camron Parsley. Muhlenkamp got the first two pitches over for strikes but then threw four straight out of the zone to load the bases. Jacob Roe worked the count full before hitting a fly to center that Mitch Schoenherr snagged to end the threat.
Insurance came in the bottom of the sixth as Brody Hoying reached on a one-out single. After Otten bunted Hoying to second, Bettinger singled to center to bring Hoying home to make it 2-0.
Wheelersburg refused to go away. Nick Marshall led off with a single in no-man's land down the third base line and scored on a double down the third base line by Roe. Muhlenkamp got the first out as pinch-runner Michael Green stole third, but Sam Robinson's hard grounder to short allowed Green to score the tying run. Muhlenkamp escaped additional trouble when Carmichael was out on a bang-bang play at first.
Muhlenkamp singled to lead off the bottom of the seventh. After Klosterman bunted the runner up 90 feet, Aaron Harlamert popped out in foul territory to bring up Kramer, who grounded to second to send the game into extra frames.
Muhlenkamp and Miller traded quick innings in the eighth and ninth to keep the game rolling into the final frame. Muhlenkamp, who would likely have been Saturday's title game starter if he hadn't pitched Thursday, pitched 4 1/3 innings of two-hit baseball to get the win. Martin, who would have been done after the 10th inning due to innings restrictions, walked one and struck out six in 9 1/3 innings.