Wednesday, August 27th, 2014
Fire helps bring down silo
Farmer had planned to raze the structure
By Margie Wuebker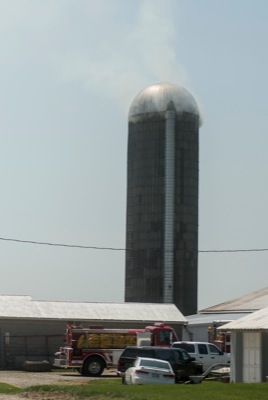 ST. HENRY - Firefighters from two departments spent nearly five hours at the scene of a silo fire Tuesday afternoon.
St. Henry and Burkettsville fire departments responded to the farm of Jerome May, 4190 Lange Road, around 12:30 p.m. to find heavy smoke pouring from the concrete structure.
"Given the condition of the silo and the way it was leaning, putting firefighters inside or on top was not an option," St. Henry Fire Chief Matt Lefeld said.
May had planned to raze the silo, which was no longer used, but the fire hastened the process, Lefeld said.
A construction crew arrived and brought the silo down, giving firefighters access to roughly 20 feet of burning silage.
"We could see the fire through silo doors but getting access to the contents was difficult," the fire chief added.
Firefighters spread out the contents and extinguished hot spots before clearing the scene about 5:30 p.m.
A St. Henry unit from Mercer County Emergency Medical Services also responded to the scene as a precaution. There were no injuries, Lefeld said.
The cause of the fire has not been determined, but the fire chief said the fermented silage - more than a decade old - was dry and combustible.