Wednesday, August 27th, 2014
Fast start, hot goal keeping lead 'Riders to win
By Colin Foster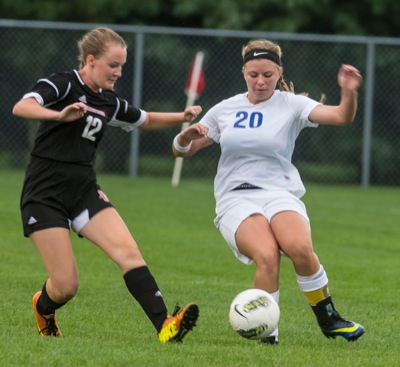 ST. MARYS - St. Marys girls soccer coach Seth Hertenstein wasn't impressed when Skylar Liming scored a goal over two minutes into a game against Shawnee. So Hertenstein shouted at Liming from the sideline as she trotted back down the field.
He was, however, impressed when Liming scored again just 19 seconds later.
"After that second one, she impressed me," the first-year coach said. "She got the job done."
Liming's two quick goals, Sydney Cisco's score at the 30-minute mark and the play of Bailey Fenwick-Miller in goal sparked the Roughriders to a 3-0 victory to open Western Buckeye League play Tuesday at Roughrider Field.
Liming struck first with 37:52 left in the first half, taking aim from outside the left side of the goal box and bending the shot like Beckham into the back of the net. She added another with 37:33 on the clock. Cisco collected a rebound off a Sara Little shot and burned Shawnee goalie Nikole McPheron with just over 10 minutes left in the first half - and that was more than plenty with Fenwick-Miller in goal.
"The start was absolutely what we needed because we haven't put a solid game together yet. ... We didn't do it again today," Hertenstein said. "Without that big start, we might not have gotten the victory. It might have been 1-0, a tight game all the way to the end."
Fenwick-Miller had 17 saves in goal, including a big stop on a direct kick with 24:40 remaining in the first half and another key save when she punched Maddie O'Connell's rip over the goal two minutes into the second.
"Ever since she's been back from her trip to Japan, she's been absolutely on fire," Hertenstein said. "I don't think a ball has gotten past her, even in practice. If anything comes through her, she's going to stop it. I think I'm going to send her to Japan next year on my own money."
Keely Koeper and Kami Menchhofer each added assists for the 'Riders, who improve to 2-1 on the season.
St. Marys returns to WBL play on Tuesday at Kenton.
"Great start. Exactly the start we needed," Hertenstein said. "Let's hope we continue."