Saturday, August 30th, 2014
Gone in a puff of smoke
Businesses, smokers adjust to ban, health effects hazy
By Shelley Grieshop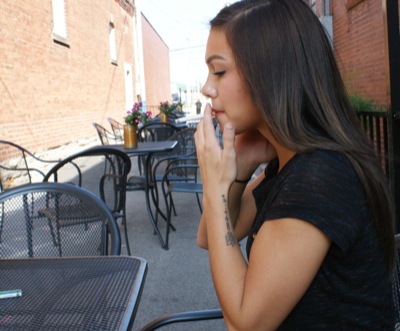 The smoke has cleared inside area businesses and, in some cases, so have the people.
In 2006, Ohio became the 12th state to ban smoking at work and in public venues. Some of the changes occurring in the last six years are visible, such as an increase in outdoor seating at bars and restaurants.
"We added on a patio just because of it," said Jenny Bower, canteen manager at the American Legion in St. Marys. "Smokers got used to it."
A less visible impact is the organization's drop in profits, she said.
"It's not like it used to be. I'd say we're down a good 40 percent," Bower said. "A lot (of customers) got in a habit of going somewhere else and just quit coming."
The Ohio Department of Health estimates 280,000 public places and employment sites were forced to follow the new law or face consequences. Businesses and civic organizations that violated the law were warned before getting slapped with fines ranging from $100 to $2,500 or higher in certain circumstances.
Receiving the most smoking ban citations in Mercer County since enforcement began in 2007 is the Fraternal Order of Eagles in Celina with six violations and fines totaling $12,600. The Eagles lodge in St. Marys tops the list of violators in Auglaize County with three citations and $700 in fines, according to the ODH.
Gary Cisco, manager of Plaza Bowling Lanes in Celina, said the business attracts more families than it did before the ban became effective.
"But we have less of the regulars," he said.
Smokers forced outside in lousy weather often complain about the cold and their wet and snowy feet, Cisco said. But overall, the positive appears to balance out the negative, he said.
Brothers Joe and Jeff Lynch, who co-own Bud's Pizza in Minster, said the smoking ban had a positive impact on the business they took over more than a year ago.
"We have a lot of birthday parties for kids, teens ... I think it definitely helped us attract more families, more customers," Joe Lynch said.
The corner business added a patio about two years ago but not just to satisfy smokers. It's a trendy thing, he said.
"Eight years ago there probably (were) a lot of people who just wouldn't have come here," he said.
The goal of smoking ban supporters was to protect workers and the public from exposure to second-hand smoke. Tobacco use is linked to about one in five deaths in the U.S., according to the American Cancer Society.
A report released by ODH in September 2011 said Ohioans' health had improved since the smoke-free law went into effect.
"The analysis of discharge data from Ohio hospitals also revealed a sharp decline (26 percent) in heart attack rates immediately following implementation of the law," ODH stated.
The state agency also reviewed sales data from 2003 to 2010 and noted the law had had no noticeable financial impact on bars and restaurants.
The Centers for Disease Control and Prevention recently reported that about one in five adults in the U.S. smoke.
The number of adult smokers in the Grand Lake area has decreased since the smoking law debuted. In 2006, 21.6 percent of adults in Mercer County smoked cigarettes, compared with 14 percent in 2012.
The change wasn't significant in Auglaize County where the percentage of smokers increased from 18 percent in 2008 to 19 percent in 2012. However, the number of youth smokers dropped from 16 to 14 percent.
Local health officials say it's too early to tell if the smoking ban will have positive, lasting effects.
"I think in regard to long-term health issues it is (too) early to see any significant changes resulting from the Smoke-Free Workplace Law," Auglaize County Health Commissioner Oliver Fisher said.
He's happy to note that smoking has lessened among younger generations.
"Hopefully, it will continue to decrease more and more as future generations have to face the decision of whether to smoke or not to smoke," Fisher said. "With continued education on the terrible side effects of smoking, they will make the right choice."
Mercer County Medical Director Dr. Philip Masser said it's "too early in the experiment" to know the impact. Follow-up data on issues such as lung cancer and asthma will be vital, he said.
"I do think it is important that we develop accurate methods to track these issues over time," he added.