Saturday, August 30th, 2014
Bulldogs overpower Tigers in season opener
By Gary R. Rasberry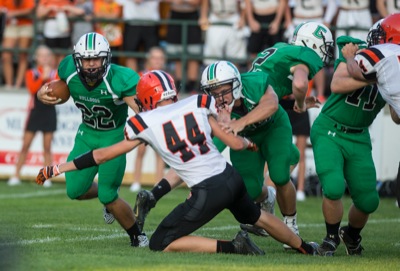 CELINA - The Celina defense shut down the Versailles offense and the Bulldog offense scored 20 points in a span of five minutes in the second half to open the 2014 season with a 26-3 win over the Tigers at Celina Stadium.
The Bulldogs held the Tigers, running out of the I-formation this season, to just 112 yards on the ground, 87 yards coming in the first half as the Celina held on to a 6-3 lead. The Bulldogs' first score came on a 49-yard fumble return score by Logan Delong after Zack Marks forced a fumble by sacking Tiger quarterback Jared Niekamp.
"We knew they were going to run it. They're a powerhouse team," said senior defensive tackle Michael Teeters. "We had to switch it up on defense. Our defense stopped the run."
"Our defensive line played extremely well," Celina coach Trent Temple said. "We had guys flying over the field. The offensive and defensive coaches did a great job preparing the kids to go. It showed in our conditioning. I told the kids last night we're in no better shape than they were. They proved me wrong. I thought we were in better shape and it showed tonight."
Versailles coach Adam Miller concurred that Celina was in better condition.
"A lot of it was the conditioning. They were in better shape than we were and it showed in the second half," Miller said. "The kids played hard, not doubting that at all, but Celina stayed strong and picked it up late."
It took some time for the Celina offense to warm up as the Tigers kept quarterback Caleb Hoyng in check and stopped the Bulldogs from going outside the containment to gain yards down the sidelines.
That changed when Celina took the ball on their own 20 with 3:58 left in the third quarter. Hoyng converted a third-and-two with a four-yard pass to Cayden Wilson. Winget sandwiched two runs for 27 total yards around an 11-yard reception to get to the Versailles 30. The Bulldogs reached the red zone when Hoyng found Stolly for a 28-yard strike to get to the Versailles' two-yard line, where Winget punched in to make it 12-3 with 1:18 left in the third.
"That fired us up," Teeters said. "We were jumping and screaming, chanting away because we knew we had this game."
Versailles tried to move the ball downfield on its next possession, using a halfback pass from Collin Peters to Jace Barga to get to midfield, but the Bulldogs stuffed two straight runs and Justin Keeling nearly had his second interception of the night to force the punt.
After Hoyng hooked up with Winget for a six-yard pass, Hoyng went deep down the middle to Stolly, connecting for a 79-yard touchdown to make it 19-3 with 10 1/2 minutes to play.
Celina forced another three-and-out to set up the final score. Hoyng hit Sean Kirk for a 23-yard pass to get to the Tiger 20, allowing Winget his second touchdown of the night to make it 26-3.
"I'm really excited for our offense," Temple said. "First half, we didn't look very well. Second half, we were fired up. We got a score and fed off that. We needed that."
"Our offense is amazing," Teeters said. "They stepped up a lot."
After tallying just 54 yards of offense in the first half, Celina finished with 288 yards. Hoyng, after going 3-of-11 with an interception in the first half, hit all eight of his passes in the second half, finishing the night 11-for-19 for 199 yards. Stolly snagged three passes for 116 yards and Kirk made three catches for 42 yards. Winget finished with 54 yards rushing.
Peters, who had 66 yards in the first half, finished with 81 yards. Niekamp was just 2-of-8 passing for seven yards and was sacked five times for a minus-35 yards rushing.
Celina is back home next Friday to open Western Buckeye League play against the Bath Wildcats, who play tonight against Lima Central Catholic. The Tigers have one more non-conference game before entering MAC play, hosting Valley View at Hole Field.