Thursday, January 19th, 2017
Local schools support Military Appreciation Night
Hoops Highlights
By Colin Foster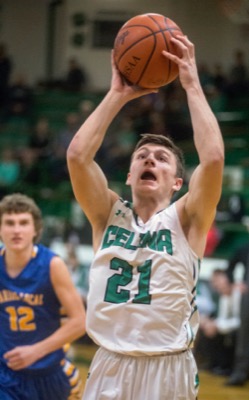 Area schools will be taking part in Military Appreciation Night this Friday to honor service veterans.
The Ohio High School Athletic Association has encouraged its member schools to take part in ways ranging from student sections to dress in patriotic colors to saluting veterans.
Celina will offer free admission to all veterans who present military identification and a color guard will present the colors for the National Anthem.
At Fort Recovery, the Fort Recovery Pep Band will perform "God Bless America" and the Mercer County Barbershop Quartet will sing the National Anthem. A moment of silence will also take place.
Marion Local will have three color guards from the Marion community present the colors and will recognize all retired and active military personal, including Marion Local seniors Lance and Logan Brunswick, who have completed basic training in the Army National Guard. The high school choir will sing the National Anthem.
New Knoxville will recognize all past and current veterans prior to the varsity contest with St. Henry.
Bulldogs Cool Off
The Celina boys have been one of the hottest area teams since January began.
On Tuesday night against Marion Local, the Bulldogs cooled off.
The effort was there - again. Good rebounding? Check. Physical play? Check. Defensive intensity? Check. And the Bulldogs kept their turnovers to a minimum.
But after a 49-40 loss to the Flyers, one number told the story: 21.
Twenty-one percent shooting, that is.
Celina outrebounded a very strong and physical Flyer team by a margin of 28-19 and had just 10 turnovers. Of course, those numbers weren't good enough to overcome an 11-of-51 shooting night.
It was a rare off night for Celina, which had won three of four games in the month of January entering Tuesday's game. The Dogs will try to regain form on Friday when they host Defiance.
"Offensive-rebounding wise, defensively, for the most part, we're okay," Celina coach Jay Imwalle said. "I don't have any answers how you shoot the ball with more confidence or what it might be. But if we can consistently shoot the ball near 45 percent, we're going to be okay."
Following rank
The Midwest Athletic Conference has the most state-ranked teams among three other surrounding leagues.
In this week's Associated Press polls, a combined five MAC teams are ranked in the top 10. The Minster girls claimed the top spot in Division IV. The boys' and girls' programs of Versailles and Fort Recovery are both in the top 10. The Tigers are ranked sixth in boys and third in girls (both Division III). The Indian girls are fourth in Division III while the boys stand seventh in Division IV. And if the 11-3 Coldwater girls keep winning, they could soon be joining the party.
The Western Buckeye League, Shelby County League and Cross County Conference were the other conferences looked at.
The Ottawa-Glandorf boys and girls are the lone teams present from the WBL. The Titan girls are ranked first in Division II and the boys are fourth in the same division.
One boys' team and two girls' teams represent the SCL. The Fort Loramie boys are ranked fifth in Division IV. Russia is seventh in girls and Jackson Center is 14th.
The CCC has two representatives in the Bethel boys (11th in Division III) and the Tri-Village girls (fourth in Division IV).
Mowing them down
The Minster and Fort Recovery girls' basketball teams are still undefeated.
Can either of them run the table in the regular season? That's the million dollar question right there.
The upcoming slate for each includes many big challenges, not just in-conference but also non-conference.
For the Wildcats, it begins tonight at MAC rival New Bremen. The remaining conference games for the Wildcats include Versailles (home, Jan. 26), Marion Local (road, Feb. 2), New Knoxville (road, Feb. 9) and Fort Recovery (home, Feb. 16).
Five state-ranked teams remain on 12-0 Minster's schedule, including Versailles (No. 3 in Division III), Fort Recovery (No. 4 in Division III), Russia (No. 7 in Division IV), Ottoville (No. 8 in Division IV) and Arlington (No. 6 in Division IV).
Minster travels to Ottoville this Saturday, hosts Russia on Jan. 28 and travels to Arlington on Feb. 9. The Orange and Black also host WBL co-leader Wapakoneta on Feb. 14.
After tonight's showdown with Versailles, Fort Recovery has MAC games with Marion Local (home, Jan. 26), Parkway (away, Feb. 2), surging Coldwater (home, Feb. 9) and then Minster (away, Feb. 16).
The Indians also travel to face a good Upper Scioto Valley squad on Jan. 28 and host Tri-Village (No. 4 in Division IV) on Feb. 11.
Quick hitters
• Derek Jay is 27 points away from tying Mark Ashman's as St. Marys' all-time leading scorer. Jay is coming off a 28-point performance in Tuesday's victory over Troy. The senior will go for the record against Elida on Friday at Murotech Court.
• Minster senior standout Rosie Westerbeck is the newest area member of the 1,000-point club. She achieved the feat with a game-high 21 points in last Thursday's victory over St. Henry.