Thursday, January 19th, 2017
Cooking for The Gipper
Chef recalls satisfying the tastes of the Reagans
By William Kincaid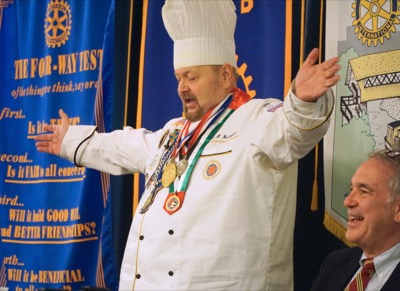 ST. MARYS - An extraordinary president had very ordinary tastes in food: smoked ham on rye bread with Dijon mustard and a bowl of navy bean soup, his chef recounted.
That's the way Ronald Reagan liked it, at least when he had finished the fancy presidential dinners and functions, former White House Chef Steven Boehmfeldt, who lives in St. Marys with his wife, Ale, revealed to St. Marys Rotarians on Wednesday afternoon.
"Everywhere we went with him we had to have his favorite meal. Remember, Mr. Reagan had come from Illinois - pigs, corn, Methodists," Boehmfeldt said "And we would have to have that available for him every single place he went."
Even after visiting the Berlin Wall, Reagan would request the same meal, along with a 7-ounce glass bottle of 7-Up and "on the side a little pillow mint."
"That's what he had," Boehmfeldt said. "I don't care what state dinner he went to, I don't care who serviced him. When you got all done at the end of the night the president would like his lunch, and that's what he would have."
Boehmfeldt, a Cornell University graduate, at 21 was the youngest man to be accepted into American Culinary Federation as a certified executive chef, he said.
"Mrs. Reagan was looking for someone that she could work with who would take the White House and the legacy of the presidency and overshadow that which had taken place during Camelot," Boehmfeldt said.
She demanded state dinners that were second to none - everything had to be prepared with great detail, he noted.
Boehmfeldt also said he planned and prepared the dinner for Reagan's second inauguration.
He recalled how Nancy Reagan told him she wanted him to prepare the president something really special "that nobody ever had before."
"Now I have to tell you something. That's kind of difficult," he said. "It was Thomas Jefferson who had brought baked Alaska and many of these different types of things to the White House, so we studied all of these other presidents and what they had."
Boehmfeldt delivered a dessert of white chocolate shaped like the White House with marinated strawberries inside, which he called "Burn the House Down."
"That was the dessert, and quite honestly it was the claim to fame of culinary treats, the equivalent of probably baked Alaska," he said.
Boehmfeldt said he often accompanied the president aboard Air Force One.
"Do you remember (Reagan) saying, 'Mr. Gorbachev, tear down (this wall)?' I was there," Boehmfeldt said. "I was there and we flew to Normandy on the way and he stopped and we went to the memorial."
Back in those days high-altitude cooking wasn't understood as well as it is today, Boehmfeldt noted.
"So we would prepare presidential dinners and things for him and his staff," he said. "We were still trying to play with ovens and we were doing experiments for companies trying to understand high-altitude cooking."
Boehmfeldt reflected on Reagan's character, calling him a kind, gentle and dedicated man.
"I can cry when I think about the integrity, the credibility, the patriotism (of Reagan)," Boehmfeldt said, adding his feelings are based not on the former president's political leanings but rather his respect for the office.
"You knew he was coming before he got there. He respected the office so much that the aura of the man came before he did," Boehmfeldt continued.
On three occasions Boehmfeldt said he saw the president, through the open door of the Oval Office, on his knees with the Bible.
The job gave Boehmfeldt a great reputation and helped propel him to the top of the food industry. He worked in research and development, designing food products for companies around the globe.
But his world came crashing down sometime around 1991.
"I found my birth mother after 43 years - never knew where she was," he said. "I found that my mother who raised me and brought me up ... that she was dying and did the very same week that I found my birth mother."
To make matters worse, his wife at the time told him she no longer wanted to be married to Boehmfeldt.
"You can have (a) great professional life and everything else but you can be coming apart at the seams," he said.
Boehmfeldt sought refuge on a cruise where he went on an 18-day bender, drinking all the rum he could get, he said.
He soon realized that wasn't the answer. He enrolled in Bible college in Tulsa, Oklahoma.
"(I found) that my significance and my value, my purpose and my identity was not wrapped up in how much money I had ... how many cars I drove or anything else but had everything to do with the fact that I had a creator, one who had formed, made and created me in his image," he said.
Boehmfeldt, who said he has numerous doctorate degrees, explained that he went from having a profession to a vocation. He became an ordained minster, counselor and therapist.
Through the guidance of prayer, Boehmfeldt decided to move to St. Marys about two years ago. He set up Isaiah 61 Christian Counseling Center and Education Services at The Gathering Place on Spring Street, where he specializes in healing a myriad conditions, such as abuse, addictive behavior, borderline personality disorder and depression, and helps with identity development and spiritual formation.