Monday, June 5th, 2017
Three is a Magic Number
Niemeyer's single in seventh gives Minster third state baseball championship
By Gary R. Rasberry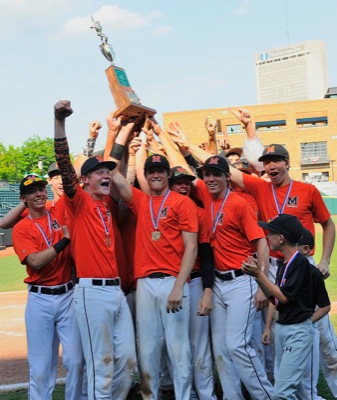 COLUMBUS - Minster coach Mike Wiss looked to make sure the ball was fair, and then he looked to make sure the runner touched home plate.
Then he could finally celebrate.
Jon Niemeyer's two-out single to left scored Jared Huelsman for the winning run to lead Minster to its third Division IV state baseball championship in seven years with a 2-1 win over Russia on Saturday at Huntington Park.
The title is the 30th state title for Minster High School and the 120th state title for the Midwest Athletic Conference.
The Wildcats (25-7) had to rally after the Raiders (24-7) scored in the top of the second inning. It was the first time Minster did not score the first run of the game in eight tournament games.
"Three titles in seven years," said Wiss after all the festivities. "My goodness."
The pitching matchup between lefthanders Jack Heitbrink (Minster) and Daniel Kearns (Russia) was a classic battle. Heitbrink used a wicked curveball to keep Russia to five hits with just one walk and five strikeouts.
"There was nerves coming in, but after (the second inning), I settled down and threw my curveball for strikes," said Heitbrink. "With the defense behind me, I know they're going to make plays."
"We talked in the fifth and sixth about getting Jack out. He wasn't going to come back for the eighth," Wiss said. "He was ahead in the count more often or not and I don't think his curve could have broken glass on a couple pitches, but if you're ahead in the count, it's that mentality of 'what's coming now?' Jack battled and threw curves for strikes."
The Raiders, who run-ruled Minster during the first week of the regular season 17-6, scored in the second inning when Shelby County Player of the Year Hunter Cohee led off with a single. Kevin Drees moved Cohee to second with a bunt. Evan Monnier, who had the game-winning hit against Dalton in the semifinals, singled to left. Cohee scored but Monnier tried to take second base and was thrown out.
"Russia came from behind (Friday against Dalton), came from behind against Newark Catholic (in the regional final), Fort Loramie (regional semifinal) and Lehman (district final). I told the guys not to be surprised at all (if) Russia comes out with a lot of energy."
After the second, Heitbrink allowed just three hits and got out of a jam in the sixth. Trenton Monnin led off with a single. Dion Puthoff tried to bunt the runner over but was called for interference, bringing Monnin back to first. Dylan Cordonnier followed with a single. Drew Sherman bunted, but Knapke threw to second to get the force on Monnin to put runners on the corners. Cohee ended the inning by flying out to Bryce Schmiesing in center.
Kearns kept the Wildcats hitless through the first three innings. Minster tried to take advantage of several walks issued by Kearns, especially in the third when Minster had Niemeyer at second and Alex Lehmkuhl at first before Ben Stubbs flew out to center.
Finally in the fourth, Minster broke through. Bryce Schmiesing led off with a walk and Isaac Dorsten moved the runner to second with a bunt. Heitbrink lofted a deep enough fly to center to allow Schmiesing to advance to third to bring up Adam Knapke, who blooped a single to right to score Schmiesing for the tying run.
In the sixth, Stubbs led off with a single off Kearns. Russia coach Kevin Phlipot brought on Jack Dapore, who only threw five pitches to get the win on Friday and was eligible to pitch Saturday, to get out of trouble. Bryce Schmiesing bunted the runner up to second before Dapore struck out Dorsten and enticed Heitbrink to ground to second to end the threat.
Dapore started the seventh by striking out Knapke. Huelsman beat out an infield single and went to second on Isaac Schmiesing's grounder to third. Niemeyer, a left-handed hitter, took a ball on the first pitch before lofting a lazy fly the opposite way to left field.
"I just thought I had to do whatever I can to win this game," said Niemeyer, who watched older brother Adam play on state title teams in 2011 and 2012. "Dapore is a great pitcher. I didn't hit it really hard. A blooper. I thought the left fielder was going to catch it, honestly."
Monnin tried to chase down the ball to end the inning, but the ball dropped in for the single as Huelsman rounded third and headed home to begin the celebration.
"I just wanted Alex (Lehmkuhl, who followed Niemeyer in the batting order) or Jon to get a chance (to hit in that situation)," Wiss said. "I thought Dapore was pitching a different level than Kearns, who pitched a nice ballgame.
"It's a dream come true," said Niemeyer, one of 10 seniors on the roster. "To see my teammates run out after me (after Huelsman scored), it's amazing."