Monday, June 5th, 2017
Sutter, Klosterman earn All-Ohio honors
Division I-II State Track and Field Meet
By Colin Foster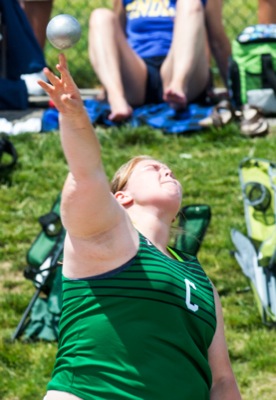 COLUMBUS - Paige Sutter attended the 2016 state track and field meet as a spectator.
The eyes were on her on Saturday, and the Celina senior embraced the opportunity.
"I went there last year to watch a teammate throw," Sutter said. "I think that really helped me get used to the atmosphere to what the meet was like and how many people were there. I think that helped me today when I was throwing. I wasn't jittery and nervous."
Sutter - making her first appearance in the Division I shot put contest - landed high on the podium with a third-place finishing thanks to a throw of 43-7.
"I think I was sixth or seventh in the state with all of our best throws and I was ranked fourth going into it," noted Sutter, who placed fourth at the regional meet. "I think that helped me because it gave me more confidence throwing. What also helped me was the fact that we come from such a tough region, that I've seen most of those big throws. It didn't really scare me when I was throwing and I throw much better when I'm more relaxed."
Sutter - who broke Amy Poor's 29-year old shot record this season at the Western Buckeye League Meet - had one of the top finishes by a Celina thrower all-time at state. Anthony Wayne's Madison Pollard won with a throw 48-111/2) and Mason's Amaya King (46-7) was second.
Zach Klosterman didn't have his best performance in Saturday's 300-meter hurdle race at the Division II championships.
He did, however, earn a place amongst Coldwater's best athletes of all-time in the Cavalier Ring of Honor.
Klosterman finished eighth at state with a time of 40.22.
"Just getting here was was definitely an adventure," Klosterman said. "It's really an honor to be a part of this experience. I still got top eight and it's something to be proud of. I wish I could have performed a little better, but knowing everything I put into it, I'm definitely going to look back on this and I'm going to take some pride in it."
Galion's Colin McCullough won the event with a time of 37.77 seconds.