Monday, June 5th, 2017
Gift of gold; Watcke wins 1,600 title on her birthday
Division III State Track and Field Meet
By Colin Foster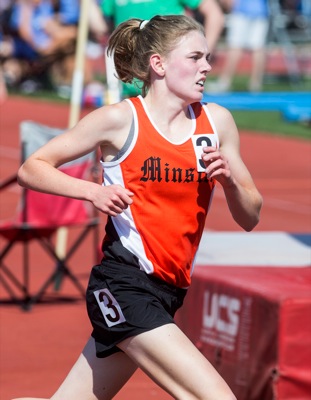 COLUMBUS - Minster freshman Emma Watcke celebrated her 15th birthday with a gold medal.
And the Wildcats hoisted the team runner-up trophy on the podium for the third consecutive season at the Division III state track and field in Columbus.
Watcke broke away from the pack down the stretch in the 1,600 and claimed her first state title with a time of 5:01.08 a day after having helped the Wildcat 4x800-meter relay team to an All-Ohio finish.
"This is the best birthday gift ever," Watcke said.
"Ecstatic for her on her 15th birthday to go and win a state championship," Minster coach Jessie Magoto said. "It's pretty awesome, and then for our whole team to get to share the experience. They're an amazing group of girls who fight day in, day out for what's right. They work hard. They're just super role models. I'm thankful to be involved with this team and to coach them all."
The team title came down to the final event of the day, the 4x400 relay. The Wildcats held a 32-28 lead over Anna in the team standings entering the event. The Rockets group of Hannah Shoemaker, Rachel Schoemaker, Krista Gehret and Kennedy Glover won with a time of 3:56.31. Glover held off St. Thomas Aquinas' Kalee Soehnlen in the final 50 meters to prevent a tie with Minster for the team title. Minster's group of Cassie Francis, Courtney Prenger, Lillian Hirschfeld and Madeline Magoto finished fifth (4:03.35).
Anna tallied a winning total of 38 points. Minster (36 points), St. Peter's (30), Archbold (26) and Creston Norwayne (21) rounded out the top five. Aquinas, which had denied Minster the team title the last two seasons, finished eighth with 18 points.
"I'm super proud of my team," said Watcke, who later placed 13th in the 3,200 with a mark of 11:36.91. "We just worked as hard as we could today, so we're happy with our place."
"This team is really tight," said Minster's Paige Thobe, an All-Ohioan in the long jump and with the 4x100 relay team. "We're a group of people who work really hard and we go after what we want. ... Yeah, second place is hard when you finish there three years in a row. But if anything it'll just give us more motivation for next year. I know based on what we've done this year, it's just really powerful to see how much we've come together and we know that it'll pay off in the future."
Sophomore Madeline Magoto finished third for the second straight season in the 800 race by posting a time of 2:15.43 this year. Anna's Glover - a four-event All-Ohioan - won with a 2:13.12 and Russia's Grace York placed runner-up (2:14.55). Minster's Francis finished ninth (2:16.84).
Thobe, Prenger, Jordyn Heitbrink and Jessica Falk placed fifth in the 4x200 relay with a time of 1:46.20.
Sophomore Kaitlynn Albers placed 10th in the 1,600 with a time of 5:19.73.
Great day for Indians
Robby LeFevre, Riley Pearson, Jared Timmerman and Brayden Schoen sealed a spot on the podium with an eighth-place finish in the 4x100 relay.
Shortly after, LeFevre became a two-time All-Ohioan in the 200-meter dash by finishing fifth.
All in all, it was a great day to be an Indian.
"As a team, I think we did the best Fort Recovery's ever done," LeFevre said. "We had only a handful of guys - we had six or seven sprinters total and we had five of them here today. We're all coming back next year. I'm the oldest, being a sophomore. It's a very optimistic future for Fort Recovery."
The Indians 4x100 team - which was composed of two freshmen (Pearson and Timmerman) and two sophomores (Schoen and LeFevre) finished in 44.20 seconds to edge Nelsonville-York (44.31) for the final All-Ohio spot.
"We made podium with all four underclassmen, which is a really cool experience," Pearson said.
"I think it's great," LeFevre said. "We have four guys on here who are likely going to be four-year All-Ohioans. I think that's an amazing thing."
A year after having finished seventh as a freshman, LeFevre improved his spot by two places in the 200, finishing fifth in a time of 22.27 seconds.
"I can't be disappointed. I still am, but I shouldn't be," said LeFevre, who ran a personal best time of 22.23 seconds in Friday's prelims. "In the next two years, hopefully I get different colored medals - silver or gold."
Senior Travis Sutter competed in the 1,600 and finished 13th in a time of 4:33.93.
Seibert successful
Coldwater's Savannah Seibert qualified for the finals in the 300 hurdles last year but finished a spot off the podium in ninth.
She wasn't about to let that happen again.
Seibert, a junior, ran a personal best time of 45.71 seconds in the event on Saturday to finish fifth.
"(Getting ninth) drove me a lot hard throughout the season because I never wanted to have that feeling again," Seibert said.
"My goal was to just get top eight and then every other place was icing on the cake," she added.
The junior earned a spot in the Cavalier Ring of Honor, which celebrates Coldwater's All-Ohio athletes.
Marion on a mission
The Marion Local girls 4x800-meter relay team of Natalie Rethman, Jessie Kramer, Brooke Homan and Kylie Albers was on a mission to finish high on the podium.
Mission accomplished.
The Flyers placed fourth with a time of 1:45.97.
"I think it's such an honor just knowing we got fourth out of the whole state of Ohio in Division III," Rethman said. "It was just all around fun and I hope we get to come back again."
"We just wanted to get as high up on the podium as we possibly could," Kramer added. "We PR'd by like a half of a second. That was really the best feeling ever, finishing as high up as we did."
Albers took the baton in the final stretch and pushed ahead of MAC rival Minster to secure fourth.
"I knew we had a goal to place high on the podium," Albers said. "Knowing we were on the inside lane, I knew I had to push hard to get ahead and then hold it for the straight away."
Proud to be a Panther
They weren't even a team one month ago.
Then Parkway's Clista Hellwarth, Sydney Crouch, Ansley Burtch and Rachel Barrett decided to team up in the 4x100 relay at the district meet.
"I guess the thing we were thinking was we have everything to gain and nothing to lose," Burtch said. "That's kind of what we lived by ever since."
"We even got that put on our tank tops," Hellwarth added. "We just threw everything together and we had no idea what this was going to be like. We had people asking us where we came from.
"Ever heard of Mercer County?" Burtch remarked.
After Saturday, the Panthers are officially one of the best in the state as the quartet combined for a seventh-place finish in a time of 51.22 seconds.
"I just really wanted to make it to state one last time, and this is like living the dream," Hellwarth said. "I ran for the last time as a senior and as a Panther and I'm just really happy."
"It's just an unforgettable experience," Barrett said. "We'll remember this for the rest of our lives."
"I made it here in two other events and I didn't do my best," Crouch added. "I was glad we made it here to the finals. I wouldn't want to experience this with anybody else, and I'm proud to be a Panther."