Friday, September 15th, 2017
No. 6 Indians beat top-ranked Cards
By Colin Foster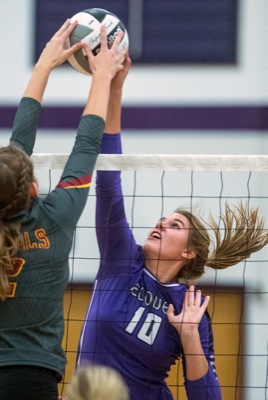 FORT RECOVERY - The Fort Recovery Indians were ranked sixth in the first Ohio High School Volleyball Coaches Association Division IV state poll.
They should be much higher next week.
The Indians became the first team to defeat top-ranked New Bremen this season on Thursday night and they did so in impressive fashion. After falling 14-25 in the opening set, Fort Recovery took the next three by scores of 25-18, 25-19, 25-19 in the friendly and noisy confines of Fort Site Fieldhouse.
"I've watched them play a lot and they're really, really good," New Bremen coach Diana Kramer said. "And when they're in system, they're impossible to beat."
Point proven on Thursday.
New Bremen (8-1, 2-1 MAC) has everyone back from last year's regional runner-up team, including the state's single-season kill leader Paige Jones, and the Cardinals had dropped just two sets all season on their way to a perfect start.
The University of Michigan-bound Jones had seven kills in the opening set, Taylor Paul tallied three kills and Macy Puthoff added two aces as the Cardinals seemed primed to make quick work of the Indians after a 25-14 win.
Instead, the Indians quickly went to work in the second set, building a 7-3 lead thanks to a couple kills by first team All-MAC selection Carley Stone and some New Bremen hitting errors. The Cardinals came right back, though, as Jones went on a spiking spree with four kills and an ace to tie the set at 9-apiece. That, however, was the last time the set would be tied. Paige Fortkamp and Cassidy Martin had two kills apiece the rest of the way, Valerie Muhlenkamp and Stone also added kills and Madison Rammel dropped down a pair of aces as Fort Recovery ended the set on a 16-9 run.
Fortkamp had four kills early in the third set, and the Indians built a 13-9 advantage. A trio of kills by Julia Goettemoeller eventually pulled the Cardinals to within two points at 15-13, but that was the closest they got. The Indians stayed on the attack - Fortkamp added one more kill and Stone added two kills down the stretch, including the last one that gave them a 25-19 win.
Fort Recovery built a 9-4 lead in the fourth set. Stone led the charge with two kills and a block during that span. But Jones led the New Bremen charge back into the set. A pair of kills by Jones and an ace by Paul eventually tied the set at 16-all, prompting a timeout by Fort Recovery coach Chelsea Kahlig. Fortkamp and Paige Jutte had two kills apiece after the timeout and Martin went on to finish off the set with a pair of spikes and a block.
"We struggled with our serve receive in the first game, and (the coaches) made the comment after the second game, we said 'Our serve receive was almost perfect,' " Kahlig said. "And they made so many errors that we took advantage of. We kind of let them make the errors and we didn't make many errors. We just had girls play really well - we had young girls play well. Paige Fortkamp came out of nowhere tonight. She had 13 kills. She's a freshman who hasn't been full-time varsity all year and she comes out and does that against the No. 1 team in the state. It's pretty awesome.
"And I've also got to hand it to our defense. Kiah Wendel did a great job back there. We had five girls with double-digit digs. Defense wins games in almost all sports and momentum's a huge factor. We took advantage of it."
Stone finished with a team-high 14 kills to go along with 10 digs for Fort Recovery (9-1, 2-1 MAC). Jutte had nine kills and Martin added seven. Rammel dished out 40 assists. The defense was led by Hannah Knapke (18 digs), Kiah Wendel (17) and Alexis Bubp (13).
Jones had a match-high 24 kills, Goettemoeller added seven kills and Abbi Thieman finished with 21 assists. Puthoff left in the second set with an ankle injury.
"The injury (to Puthoff) was huge, but I'm not putting the blame on that," Kramer said. "Macy is a huge part of what we do. But if there was one reason we couldn't get it going after that, it was because of Fort Recovery. Fort Recovery deserved to win tonight. Fort Recovery played an unbelievable match.
"They were constantly setting and attacking. They were playing confident and we weren't confident. We didn't want to be the one to make the mistakes. We wanted them to make the mistakes and they didn't make the mistakes tonight. I bet they probably hit .500 tonight."