Friday, September 15th, 2017
Singles matches lead Riders past Bulldogs
By Gary R. Rasberry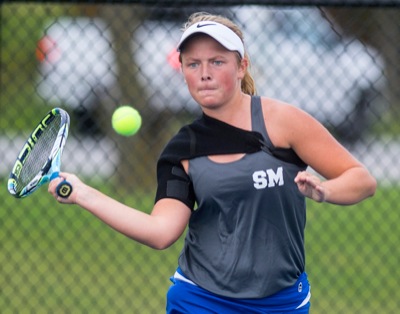 ST. MARYS - The deciding factor in Thursday's Celina-St. Marys girls tennis match was strengths.
St. Marys's edge in singles trumped Celina's doubles prowess as the Roughriders won the Grand Lake tennis bragging rights with a 3-2 win at the Roughrider Courts in Western Buckeye League action.
Both teams were missing singles players due to illness. With Grace Gabes out at first singles, Sierra Zuercher and Sara Hellwarth moved up and Cassidy Bowersock took over in third singles against Elizabeth Sutton, who was filling in for Jill Brown.
St. Marys dominated in singles, dropping just six games over six sets. Clare Caywood was a 6-0, 6-1 winner over Zuercher in first singles while Jillian Wine was a 6-1, 6-0 winner over Hellwarth in second singles. Sutton was sharp against a determined Bowersock, who took Sutton to the limit in a 4-6 loss in the opening set before Sutton shut out Bowersock 6-0 in the second set to claim the match.
"They all played with confidence," Roughriders coach Mariah Krugh said. "Clare is so reliable at first singles. Her confidence is great. (Sutton) played great. A great addition to the singles crew. Jillian played with amazing confidence. Couldn't ask for any more."
"Cassidy did a good job at third singles, but that's a tough job coming in from JV into an important varsity match," Celina coach Jan Morrison said.
Both teams' doubles tandems were prepared well for a solid battle as both matches went the full three sets.
In first doubles, the St. Marys pair of Allie Vanderhorst and Kara Danaher won the opening set over Allie Lehman and Christina Harting 6-4. The Bulldog team rebounded in the final two sets, winning 6-0, 6-4 to claim victory.
The second doubles match started much like the first, with the Roughrider team of Grace Dicke and Bailey Lininger taking the first set 6-2 over Lexi Noll and Skye Grube. Grube and Noll rebounded to take the final two sets with matching 6-3 scores to take the match.
"We all got our money's worth with the doubles, didn't we?" Morrison said with a laugh. "St. Marys has two good doubles teams (in matches) that could have went either way. I'm proud how our girls hung in there. I think senior experience (all four Celina doubles players are seniors) helped us today."
"I couldn't ask for any more from the doubles," Krugh said. "They played hard. That's all I ask from them."
In the junior varsity draw, Taylor Turner won in both singles and doubles - with Anaira Harris as her partner - for Celina. Winning in JV singles for St. Marys was Lydia Dabis while the doubles teams of Kirsten Schnelle and Jenna Hawkey, Kate Pekova and Jaden Gibson, Makayla Opperman and Alivia Sawmiller and Hawkey and Dabis also won.
Both teams return to league play on Monday. St. Marys travels to Defiance and Celina hosts Van Wert.