Wednesday, January 17th, 2007
Zehringer gets critical backing for House post
House GOP favor Mercer commissioner for vacant seat
By Pat Royse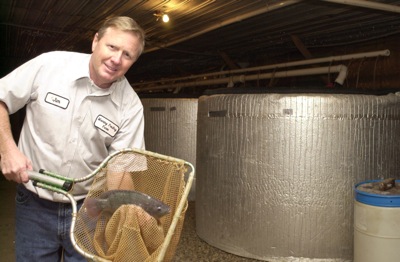 Mercer County Commissioner Jim Zehringer is being recommended to fill the now-empty Ohio House District 77 seat, formerly held by Keith Faber.
The screening committee of House Republicans, headed by House Speaker Jon Husted, made their decision Tuesday. Husted said the recommendation will be presented to the full Republican Caucus in the coming days.
Zehringer of Fort Recovery is expected to be officially seated by mid-February, a press release from Husted says.
"As a small business owner with a background in agriculture, Jim will be a valuable asset to the legislature as we continue to improve our economy," Husted said. "He also has a proven record of service to the community and will represent the citizens of the 77th District in the Ohio House of Representatives."
If the Caucus confirms the recommendation as expected, Zehringer will replace Faber, who resigned his seat to serve in the Ohio Senate. Faber of Celina, who was re-elected to the 77th District in November, takes over the final two years of Ohio Senator Jim Jordan's term. Jordan was elected in November to the U.S. House of Representatives.
Zehringer is one of five local residents who applied for the open House seat and sought local GOP recommendations from the three counties included in District 77. Zehringer got the nod from Mercer and Preble counties. Darke County recommended one of their own, Commissioner Terry Haworth.
Those who applied for the job besides Zehringer and Haworth were Toni Slusser of Celina, Thomas J. Wehrman of Coldwater and Greenville Mayor Gregory Fraley.
Zehringer said this morning that he will be honored to join the 127th Ohio General Assembly.
"I will serve the constituents of the 77th District with utmost loyalty," Zehringer promised.
He wants to work in the areas of jobs, economic development, agriculture and education, he said.
"We need regulatory reform- something that Faber started on," Zehringer said. He hopes to reduce the more than 58,000 regulations in Ohio by eliminating duplicated and unnecessary rules.
"By doing so, we could help small business," he continued. "I also want to set up advisory boards on important issues."
Zehringer, 58, was re-elected in November to the commission seat by 63 percent of the local vote. Zehringer, a Mercer County commissioner since 2003, is also owner of the Meiring Poultry and Fish Farm.
The full Ohio General Assembly will convene Feb. 13 in Columbus.