Wednesday, January 17th, 2007
Area woman dies in two-van crash
By Margie Wuebker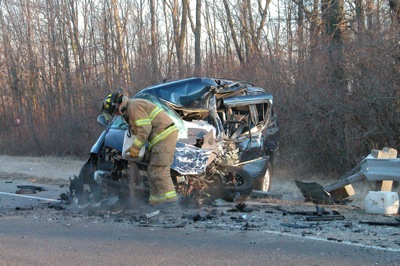 Mercer County recorded its first traffic fatality of 2007 this morning when a Minster woman was killed in a two-vehicle crash on U.S. 127 at the intersection of Johnston Road.
Melissa (Henkaline) Kogge, 35, 260 S. Garfield St., Minster, was pronounced dead at the scene by Mercer County Coroner Dr. Timothy Heinrichs. Kogge, the mother of four young children, was the lone occupant in the minivan.
Karl Duff, 67, Main Street, Mendon, was southbound on U.S. 127. Witnesses told Mercer County Sheriff's deputies his full-size 2004 Ford van went left of center for an unknown reason and struck Kogge's northbound van.
Duff also had to be freed from the wreckage. He was taken by ambulance to Mercer County Community Hospital in Coldwater. No information regarding his condition was available due to federal patient privacy regulations.
The incident remains under investigation by the sheriff's office. Deputies were assisted at the scene by Celina and Coldwater firefighters as well as Celina emergency medical services units.
Kogge apparently was enroute to work at Foundations Behavioral Health Services near Celina when the crash occurred. Representatives of the agency reportedly came to the scene as firefighters worked to free her body from the wreckage.
The highway remained closed for 2 1/2 hours as the highway was cleared of vehicles and debris.
The Foundations office was accepting no telephone calls today as staff members deal with the tragedy. Another agency handled all emergency calls.
Last year, Mercer County posted two traffic fatalities, the first occurring Aug. 7 and the second just 12 days later.
Michael S. Huelskamp, 20, 117 E. Broadway St., Lot 4, Fort Recovery, was killed shortly before 2 a.m. Aug. 7 when he lost control of his 2004 Pontiac GTO while traveling southbound on Wabash Road. The second fatality took place at 12:11 a.m. Aug. 19 when Renee M. Huber, 29, 5477 Karafit Road, Celina, was struck by a car as she walked along state Route 219, east of Coldwater.