Wednesday, January 17th, 2007
Bench comes up big for St. Henry
Depth carries Redskins to victory
By Gary R. Rasberry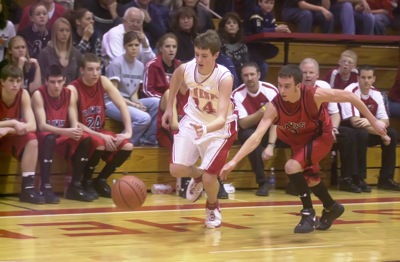 ST. HENRY - A hot-shooting start and a spectacular night from the bench allowed St. Henry to win its third straight game in beating Mississinawa Valley, 63-38, in Tuesday night non-conference action at Redskin Gymnasium.
With the win, the Redskins improve to 5-5 on the season while the Blackhawks see a three-game winning streak snapped in falling to 4-8 on the year.
The first 12 points of the game for St. Henry came on three-pointers, two by Tyler Post and one each from Andy Puthoff and Spencer Niekamp. The Redskins were 5-of-15 shooting in the first quarter, all five being three-pointers. The only points not coming from beyond the arc was a Ryan Wehrkamp free throw as St. Henry led 16-6 at the end of the first quarter.
While the Redskins were hitting their shots, Mississinawa Valley was not. The Blackhawks did not hit a field goal in the opening quarter until 17 seconds remained. In the first half, Mississinawa was 3-of-23 from the field (13 percent).
"I thought we got some great looks," said Blackhawks coach Jeff Vaughn. "We just didn't make them. I know (St. Henry's) a team that if they're making threes, they're good. If they're not making their threes, they're not so good."
The Redskins worked players into the game on a constant basis, as by the end of the first half, all 14 players that suited up had played.
The production level did not subside with the first team taking a break. The bench produced 47 of the 63 Redskins points in the game. Ryan Wehrkamp was 6-of-8 from the field - and 2-of-3 from behind the three-point line - to lead all scorers with 15 points. Spencer Niekamp added eight.
"We got some extended minutes with those guys," said St. Henry coach Joe Niekamp. "It's the time of the season where we're in a pretty busy stretch coming up. It's nice to have the number of guys going out to contribute in a positive way the way they did tonight. It was nice to see.
"They picked up our energy level and intensity level a little bit. It was good to see."
Vaughn wasn't surprised by the depth from St. Henry.
"I knew they were going to play 14-15," said Vaughn. "When you get a lead, you can afford to do that. When you've got kids who come in and really don't miss a beat after the first five, that's a luxury to have."
Mississinawa Valley could not get any closer than 15 points in the second half despite shooting a slightly better 42 percent (10-of-24). St. Henry finished with 11 of the 14 players scoring at least two points.
Coach Niekamp is happy with his team's play, but isn't ready to analyze anything with just half the regular-season schedule in the books.
"We're making some progress. We're doing good things," said coach Niekamp. "We're doing more of the things we want to do offensively. ... We have to continue to get better. Without a doubt, we're making progress."
Wes Gelhaus paced the Blackhawks with 12 points while Tracey Harris and Jason Claywell each added eight.
St. Henry stays at home on Friday, hosting Fort Recovery in a key Midwest Athletic Conference contest.