Wednesday, March 28th, 2007
Medicated driver sent to prison for local woman's death
By Shelley Grieshop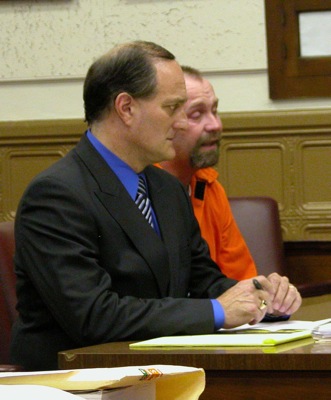 WAPAKONETA - An Indiana man was ordered to serve a total of six years in prison for causing the traffic death of a 75-year-old Minster woman in May.
Christopher Shepperd, 42, of Huntington, Ind., at times wept during the Tuesday morning hearing in Auglaize County Common Pleas Court as Judge Frederick Pepple verbally chastised him for his actions - running a stop sign while under the influence of methadone and crashing his van into a car driven by Doris R. Overman at state Routes 66 and 119.
The elderly widow was pronounced dead at the scene.
Pepple ordered Shepperd to have no contact with the victims' family, at their request, and suspended his operator's license for 50 years. He will be eligible for release from prison after five years.
Prosecutor Ed Pierce conferred with the victim's family before telling the court he was not asking for restitution in the case, even though there was a financial loss, he said.
Shepperd was sentenced in late January to a year in prison after pleading guilty to operating a motor vehicle under the influence and possession of methadone. At that same hearing, Shepperd also pleaded guilty to aggravated vehicle homicide but Pepple delayed handing down that sentencing until this week.
The Auglaize County courtroom Tuesday was divided with family members of Overman - several from Mercer County - and Shepperd's family.
Before proceeding to sentencing, Overman's family attorney read a written statement:
"The family of Doris Overman would like to offer their condolences to Mr. Shepperd's family...," for the heartache they, too, have endured, the statement read.
The letter also requested Shepperd be punished for what he did and asked that "justice be done."
Pierce told the court he found it "striking" that Shepperd does not have a criminal record despite evidence from the accident that showed he acted in an extremely reckless manner and on several occasions admitted to giving methadone to his son. The young man's age was not given.
Pierce said Shepperd continues to minimize his conduct May 11, claiming he fell asleep before driving through the stop sign at about 30 mph. Witnesses say he was traveling much faster.
According to reports, Shepperd was eastbound on state Route 119, on his way to pick up his wife of 23 years from Jackson Center, when he was observed weaving all over the roadway. Shepperd's son and another man were passengers in the van and told authorities they tried to persuade him to let them drive, but he refused.
Shepperd eventually dropped the pair off in Maria Stein, just minutes before the deadly crash. Reports showed he never applied his brakes and collided broadside with Overman's northbound car in the intersection, just north of Minster.
When asked by Pepple if he cared to make a statement, Shepperd simply replied: "I am very sorry for what I caused, that's all I can add."
Shepperd, who takes methadone for chronic pain in his spine, was found to have approximately four times the amount of the drug in his system that a physician would prescribe for therapeutic treatment. A diabetic, his blood-sugar level also was extremely high - 588 - shortly after the crash.
Shepperd's attorney, Mark Schnitkey of Napoleon, apologized to the Overman family on his client's behalf shortly before sentencing.
"He certainly never meant to cause the death of your mother and grandmother," Schnitkey said, as Shepperd began to cry.
The attorney told the court that Shepperd has shown remorse, despite the prosecutor's claim to the contrary. Schnitkey stated that Shepperd's attempt to manage his ongoing pain following six back surgeries, as well as his high blood-sugar level, caused the crash.
Pepple informed Shepperd he had something in common with the woman he killed.
"You hurt someone who was a lifelong diabetic," he said.
Pepple continued: "Sometimes we ask questions, 'Why did God allow this to happen? I understand that more than you know. But sometimes the answer is easy. How many opportunities did you have to get to park it, to let somebody else drive?...You were so negligent and so self-absorbed, you didn't stop to think about others."
Pepple told Shepperd he has no doubt he didn't intend to kill anyone that day. The judge was disturbed to discover Shepperd's physician wrote in a file three months before the accident that he should not take methadone but issued him another prescription for the drug one day before the crash.
Following the hearing, Pierce told The Daily Standard the case was a tragedy for everyone involved. He agreed with Pepple that Shepperd had many opportunities to stop the van before plowing into Overman's car.
"Yet he chose to go on," Pierce said. "It appears to me the sentence was very appropriate."