Wednesday, March 28th, 2007
Bulldogs cruise past Wildcats in shutout
By Ryan Hines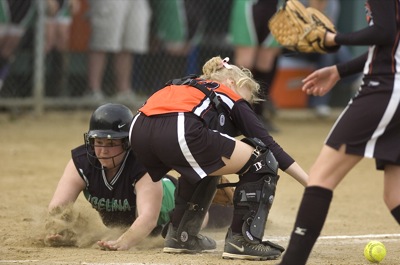 Celina pounded out 16 hits in just four innings and it was more than enough to get past Minster on Tuesday as the Bulldogs rolled to a 16-0 victory over the Wildcats.
Already ahead 5-0 entering the fourth frame, Celina put the game out of reach with an 11-run inning that was a difficult scene to watch for Minster head coach Michelle Pleiman.
"I'm not exactly sure what happened out there today, it was very disappointing to watch," said Pleiman. "The way that we played today was no indication of the team that we have or the way that they're capable of playing. That's the first time that I've seen us play like that in practice, scrimmages or in games."
On the opposite side, Celina head coach Nicole Driggs liked the aggressive play from her Bulldogs throughout the contest.
"It was really refreshing to see our girls play the way that they did today," said Driggs. "I've seen this kind of play from them in practice, but it was great to see it in the game for the first time. I think that we improved a lot from the first game to the second. We're at our best when we're aggressive on the basepaths and we did that tonight."
The Bulldogs offense got hot quick in the first inning. After the leadoff hitter was retired, Celina had five straight hits which accounted for four runs. Laura Homan and Allison Braun each had RBI singles before Tabitha Knous delivered a two-run single to give the Green and White a comfortable lead at 4-0.
Homan scored the Bulldogs' fifth run of the game in the third inning, leading off with a triple and later scoring on a wild pitch.
Then, the wheels fell off for Minster in the fourth.
Celina belted out eight hits and Minster aided the Bulldogs' effort with four errors in the fourth inning which led to the run-rule victory for the Green and White.
Amy Harner had two hits and scored two runs alone in the fourth inning. Braun also had two hits in two at-bats during the inning while Homan also scored two runs in the frame.
The Bulldogs had some gaudy offensive numbers in this contest. Amy Harner, Braun, Meagen Sutter and Knous all had three hits to lead the Celina attack. Homan scored four runs, and Harner hit the plate three times while Braun and Knous each drove home three runs.
"Hitting is contagious and I think that once we started hitting like we did in the first inning that it carried over to the whole lineup," said Driggs. "Our aggressive baserunning frazzled them a time or two during that (fourth) inning and gave us more opportunities."
Homan was also the winning pitcher on the mound with four innings of shutout ball that included just one hit allowed to go with 10 strikeouts and three walks. Jess Tumey saw her first varsity action of her career and threw a scoreless fifth frame for the Bulldogs.
Minster falls to 1-1 on the early season and will try to forget this performance as quickly as possible.
"It was a definition snowball type of day for us out there," said Pleiman. "The only positive thing to say is that it happened now and it didn't happen a month from now. We'll try to work from here and get better and just put this behind us," said Pleiman.
Celina returns to play on Thursday on the road at Shanes Park in Rockford to play Parkway while Minster will host Houston on Friday.