Wednesday, March 28th, 2007
Celina girls, St. Henry boys split wins in trimeet
By Gary R. Rasberry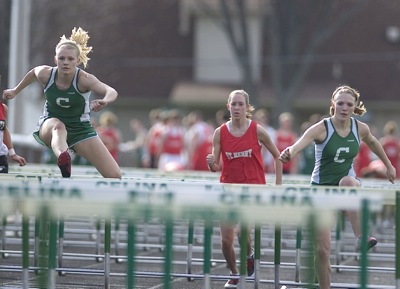 Compiled by Gary R. Rasberry

Celina and St. Henry each picked up wins during the opening trimeet of the season at Varsity Track in Celina.
The Celina girls scored 75 points to beat out St. Henry's 54 points while Spencerville was a distant third with 26 points.
The Redskins got some vengeance, with the boys scoring 92 points while Celina was second with 43 and Spencerville back with 27.
Having a double-win day were Celina's Julie Snyder, who took the long jump and the 100-meter hurdles, and St. Henry sprint ace Catie Evers, who beat out Snyder in the 100 dash before winning the 200.
Also getting wins for the Runnin' Women of Celina were Eryn Langenkamp in the pole vault, Melissa Roth in the 1,600 and LaRae Dorsten in the 800. Carmen Moorman took the 400 for St. Henry while Chelsey Kremer captured the high jump.
In the boys division, Cory Borgerding won both the shot and discus for the Redskins and Doug Ranly swept the 1,600 and 3,200 runs. Other winners for St. Henry included Matt Thobe in the 400 and Kyle Rinderle in the 800.
Kelby Rosengarten took the only solo win for Celina, winning the 300 hurdles.
Wildcats sweep meet
Minster dominated a five-team meet at St. Marys with New Bremen, Bath and Grand Lake Christian Academy.
The Minster girls beat out the Roughriders for first by a 144-109 margin. New Bremen was third with 81 points with Bath scoring 19.
The boys final standings were a little closer with Minster beating New Bremen 131-110. St. Marys took third with 100 with Bath fourth (8) and GLCA fifth (2).
New Bremen's Bryce Bergman had a busy, and productive day for the Cardinals. Bergman won the 110 hurdles, then came back the next race to win the 100 before going on to also win the 300 hurdles.
Among the double winners for boys were Minster's Andrew Meyer, who took the shot put and discus events, and teammate Kregg Olding sweeping the distance events.
Kaysha Dietz, just a freshman from St. Marys, took the 100 and 200 dashes.