Thursday, April 30th, 2009
Roughriders carry big sticks
St. Marys hits three home runs in 14-0 victory over Celina
By Ryan Hines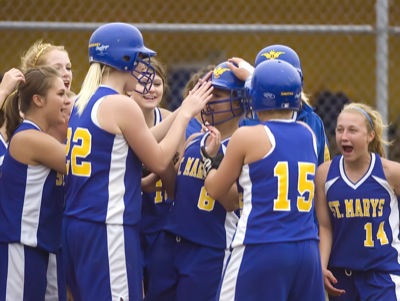 ST. MARYS - The bats were sizzling for the St. Marys softball team on Wednesday afternoon as the Roughriders hosted the rival Celina Bulldogs at K.C. Geiger Park.
St. Marys belted 19 hits, including three home runs, during a 14-0 thrashing of Celina in a five-inning Western Buckeye League affair.
The top five in the Roughriders' batting order set the tone for the game by combining for 12 hits, 13 runs scored and 10 RBI.
"Coming into the game we just wanted to be patient, but also be aggressive when we got a pitch we liked and I think that we did that," said St. Marys head coach Sue Grothause. "The top of our order set the tone for the rest of the team right away and when we are able to hit like we hit tonight, it's like a chain reaction that goes through the whole lineup. I think that the girls fed off of each other."
Bailey Smith had three hits, three runs scored and four RBI to pace the Roughriders and hit one of three St. Marys home runs. Erika Thornsberry (3 hits, 3 runs, 2 RBI) and Macy Ferrall (2 runs, 4 RBI) also went deep for the Roughriders.
"From what I've seen of them, their offense is even better than the offense they had a couple of years ago when they went to state," said Celina head coach Nicole Driggs. "They have a bunch of girls that are dedicated to what their doing and they just hit the ball."
St. Marys (11-4, 3-1 WBL) struck quickly with three runs in the first inning and then put together an impressive showing with two outs in the second inning.
The Roughriders sent 10 hitters to the plate in the second inning and six straight hits with two outs produced five runs as St. Marys charged in front 8-0. Ferrall delivered the big blow for St. Marys with a three-run home run.
St. Marys extended its lead and put the game out of reach at 11-0 with three runs in the third inning. Smith and Erika Thornsberry hit back-to-back home runs for the Roughriders in the third.
Kayla Thornsberry, who also had three singles at the plate, coasted in her four innings of work on the mound to pick up the win.
Celina (3-11, 0-4 WBL) did touch up Thornsberry for seven hits, but only once got a baserunner to third base in the shutout. Audrey Harner went 3-for-3 to lead Celina's offense while Samantha Bertke went 2-for-2.
In addition to the two Thornsberry's and Smith, Sam Davenport (3 hits, 3 runs), Megan Schlater (2 hits, 2 runs) and Carrie Schlater (2 hits) also had multi-hit games for the Roughriders.
St. Marys travels to Coldwater today for a nonleague contest while Celina hosts Elida in a WBL matchup.