Friday, June 11th, 2010
Flyers edge Bulldogs in the seventh
By Gary R. Rasberry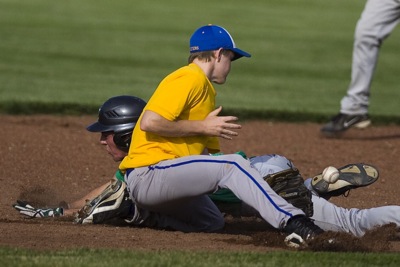 MARIA STEIN - Three straight two-out hits in the bottom of the seventh inning pushed Marion Local to a 2-1 win over Celina in ACME action on Thursday.
Marion Local tied the game in the bottom of the sixth inning before scoring the game-winning run in the seventh to give Flyers pitcher Greg Wolters the win after he held Celina to three hits and an unearned run.
"He pitched real well," said Marion coach Erik (Doc) Rutschilling of Wolters. "Our defense had some errors to give them that run, but we just kept battling, kept them close and won in the end."
The Flyers (4-2) had 10 hits on the day, six of which came in the final two innings. They were scoreless the first five innings against Celina pitcher Derek Waterman, who struck out eight, did not walk a batter and benefited from good defense.
"It was a good pitching game," said Celina coach Rob Howell. "The game was pitched well. Threw a lot of strikes."
Celina (2-3) scored its run in the fourth as Waterman reached on a one-out walk and stole second. Mitch Albers swung and missed on strike three, but the ball went into the dirt, allowing Albers to race for first base safely. When the throw to try and get Albers was off the mark, Waterman rounded third and came home to score.
Marion started the comeback in the sixth. Lee Pierron led off with a double and Wolters followed with a single to put runners on the corners. After Mitch Eilerman flied out, Dylan Thobe doubled to center. While Pierron scored easily on the Thobe double, Wolters was gunned down at the plate with the score tied 1-1.
Celina had a chance to take the lead in the top of the seventh. With one away, Cummins singled and went to second on a wild pitch. Cody Vogel then grounded a ball deep between short and third, but Cummins got caught in the middle of a baserunning mistake and was tagged out going to third. Vogel was then caught stealing second to end the threat.
Waterman got the first two outs of the bottom of the seventh for Celina, but Jon Elking singled to keep the inning going for Marion Local. Kyle Mescher followed with a single of his own to bring up Pierron, who lined a shot into leftfield past the Celina shortstop to allow Elking to score the game-winner.
"Jon, senior leadership right there, led us off and we just kept it rolling and got it in," said Rutschilling.
Howell didn't feel that Celina was as ready to play as Marion Local.
"We simply came over here not ready to play," said Howell. "We simply were not intense. Left a few guys on base, not getting swings to the zone. When you're not intense, you're not going to win many games. We really got to pick up our intensity.
"We hung tough for awhile, and these guys are still trying to gel, get together and learn how to win. They're still trying to learn how to win."
Pierron went 3-for-4 to lead Marion while Eilerman and Thobe each added two hits.
Marion Local hosts New Bremen tonight. Celina starts a four-team round-robin tonight, facing Coldwater for the second time in a week at 8 p.m. Shawnee and Spencerville play the opening game tonight at 6 p.m. Saturday sees all four teams finishing the round-robin starting at noon.