Friday, April 13th, 2012
Uptick in local tourism
By Amy Kronenberger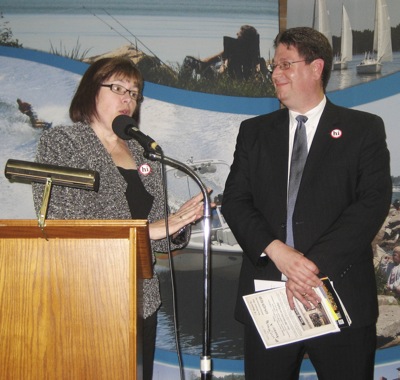 Tourism in Auglaize and Mercer counties rebounded slightly in 2011 after suffering losses in 2010 and 2009.
The total contribution from tourism to the local economy in 2011 was $41.1 million, up $763,217 from the previous year, Donna Grube, executive director of the Auglaize and Mercer Counties Convention & Visitors Bureau, said during the annual CVB banquet Thursday.
"That may seem insignificant to you, but after a nearly 23 percent drop over two years, having numbers on the plus side of the ledger is pretty exciting to us," Grube told banquet attendees at the Spiritual Center of Maria Stein.
The total contribution in 2010 - $40.3 million - dropped from a five-year high of $51.7 million in 2008. The decrease has been blamed on toxic blue-green algae blooms on Grand Lake that caused state officials to place water quality advisories on the lake the last three summers.
Grube said hotel room sales reached $4.3 million, a 1 percent increase from 2010's total of $4.2 million.
Hotel guests are the only numbers the CVB can track annually. Using those numbers, they then calculate the amount those visitors spend on gasoline, shopping, restaurants and attractions.
Gasoline, oil and auto repair came to $12.9 million. Restaurants and clubs totaled $15.1 million; entertainment and recreation, $3.5 million; and general retail purchases, $5.2 million. This total revenue supported 2,054 jobs in 2011.
"The lake is improving and we need to invest, to spread the word that Auglaize and Mercer counties is a great place to visit and really is too much fun for just one day," Grube said.
New for this year, the bureau will produce a full magazine-sized visitor's guide.
"This larger-sized book gives us more room to tell our story, and with larger pictures, we hope we will entice folks to consider us for a getaway," she said.
The bureau for the first time in two years attended a sports, vacation and boat show in Cincinnati in January.
"We moved more brochures in that five-day-long weekend than we used to give out during the full 10-day show," Grube said. "The main thing we heard from folks was 'we hear things are doing well at the lake,' and that was music to my ears."
Special guest speaker Amir Eylon, director of the Ohio Division of Travel and Tourism, said he is impressed with Auglaize and Mercer counties.
"I like Auglaize and Mercer counties a lot because there is a lot of collaboration here," he said. "You're the only bureau in the state that comprises two counties."
The Grand Lake region offers the quiet and affordable getaway that many are looking for in this economy, he said.
"Ohio is not Disney; we're not Disney-fied, and that's a very good thing for us right now," Eylon said. "There's great affordability, but there's also great hospitality and value."
Eylon, who used to charter a bus with his friends from the University of Dayton to the Minster Oktoberfest every year, said today's traveler is looking for a "re-re" getaway, looking to relax, rejuvenate, rekindle and reunite.
Eylon also stressed the importance of staying up to date with technology. He said 25 percent of all travel transactions now take place on a mobile device.
"Folks are conducting business this way," he said. "So we need to get our information out there."
Grube said the bureau is working on updating their website and will add a mobile component for smart phones and other devices.
Eylon encouraged the bureau to form partnerships in the coming months with area businesses to offer package deals to tourists.
"Most people don't have a lot of time on their hands so they look for convenient weekend getaways," he said. "Consumers want a one-stop shop."
Auglaize and Mercer counties has "great curb appeal" and offers many attractions, Eylon said.
"It leaves a great impression on visitors, but now you need to take that curb appeal to the next level," he said. "Now the time is right to tell your story, really shout it from the rooftops. Thankfully, I think we've really turned a corner here and are moving forward."