Friday, April 13th, 2012
Parkway's Fent fires two-hitter
By Ryan Hines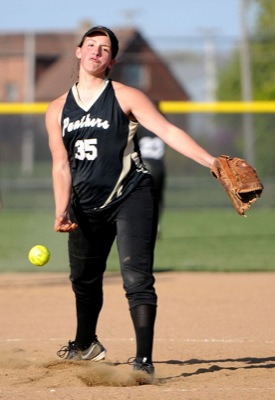 ROCKFORD - The Parkway softball team opened the season with three options at pitcher, but injuries have trimmed the Panthers' pitching staff to one at this point.
Sophomore Sierra Fent is proving that she is capable of be being the Panthers' number-one pitcher after tossing a two-hitter during Parkway's 9-2 victory over Coldwater in Midwest Athletic Conference action on Thursday in Rockford.
"(Kylie) Snyder has been hurt with a mild separation of her left shoulder and (Morgan) Steinbrunner has had a blister on her throwing hand, so Sierra has been thrust out there by necessity at this point and has responded well," said Parkway's head coach Mark Esselstein. "Sierra is a pretty good horse to ride and is still figuring things out, but she has a lot of ability."
Fent pitched all seven innings and allowed two runs on two hits. She did hit four Coldwater batters and walked five more but wiggled out of several jams with 11 strikeouts.
"Sierra settled in after we went up 2-1 and did a nice job of keeping the ball low. When she finds her groove, she's pretty tough," said Esselstein.
Fent also did damage at the plate with a 3-for-3 showing that included a towering home run, a double, one run scored and two RBI.
Although Parkway (9-4, 2-0 MAC) coasted to the win, Coldwater (5-4, 1-1 MAC) got on the scoreboard first and led 1-0 when Kelsey Koester scored on an RBI fielder's choice by Janel Hosbach during the top of the second inning.
Parkway responded immediately in the bottom of the second inning. Peyton Heitkamp singled and Destinee Guggenbiller doubled to ignite the rally and both later scored on RBI fielder's choices by Zoey Pond and Kayla Walls as the Panthers charged in front 2-1.
Fent gave Parkway's offense a charge to start the third inning when she hit a no-doubt solo home run to put Parkway on top 3-1. Heitkamp later contributed a two-run double that gave the Panthers a 5-1 advantage. Parkway added a run in the fourth and two more in the fifth before tacking on the eighth run in the sixth.
"When someone hits the ball over the scoreboard, that gets everybody fired up. I think Sierra's home run woke up our offense a bit," said Esselstein. "I thought that we hit a lot of balls hard tonight."
Heitkamp joined Fent with a three-hit game to lead the Panthers' 11-hit attack while Olivia Smith added two hits.
Kiya Dues had two doubles to account for both of Coldwater's hits and drove home the Cavaliers' second run in the seventh inning.
"She's a good pitcher, there's no doubt about that," said Coldwater's head coach Ken Fisher of Fent. "When you only have two hits, you aren't going to win a lot of games."
Parkway and Coldwater are off until Monday with MAC games on top for both schools. The Panthers travel to Minster while the Cavaliers host Fort Recovery.