Friday, April 13th, 2012
Holtkamp organ to receive national award
Instrument at St. Charles Living Center recognized for historical value
By Janie Southard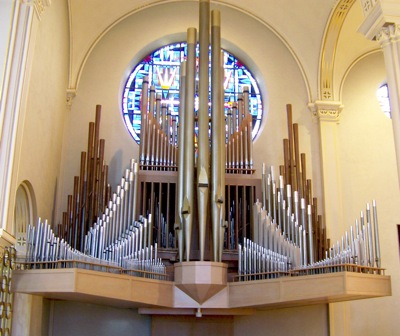 CARTHAGENA - The Precious Blood Society is owner of two pipe organs designed by the prestigious Walter Holtkamp Sr., son of New Knoxville native H.H. Holtkamp.
In fact, the two organs represent one of the first and last designed by Holtkamp before his death in 1962.
The latter, still housed at St. Charles Senior Living Center in Carthagena, soon will be awarded a place on the national roles of historically valued organs.
The other organ was housed at the former Brunnerdale seminary. The organ was moved to St. Joseph College in Rensselaer, Ind., when Brunnerdale was sold in 1989, said St. Charles resident the Rev. Ralph Verdi, C.PP.S., who spent many years teaching in the music department of St. Joseph's.
"The (Brunnerdale) organist was a Brother Ludwig. When Holtkamp designed that original organ, he named one of the stops 'Ludwig' in honor of Brother Ludwig," Verdi said.
The Holtkamp organ at St. Charles will join 325-plus organs in North America recognized by the Organ Historical Society as having historical value. The award will be presented during a recital by OHS historic organ citation committee chair Stephen Schnurr at 7 p.m. Tuesday in the Assumption Chapel at St. Charles. Schnurr is director of music and organist at St. Paul's Catholic Church, Valparaiso, Ind.
The story of the renowned designers of custom-made organs begins in Auglaize County.
New Knoxville native Herman Heinrich "Henry" Holtkamp was a musically inclined 33 year old when he moved with his wife and children to St. Marys in 1891 to establish the business H. Holtkamp, Dealer in Pianos, Organs and Sewing Machines. Some of the organs sold were made by Gottlieb F. Votteler, who had established a organ manufacturing operation in Cleveland 30 years earlier.
Holtkamp eventually was invited to move to Cleveland to handle Votteler's sales department. In 1894, Votteler died, and in less than 10 years, Holtkamp moved into a high position in the company.
He took over ownership in 1905. Six years later, Allen Gordon Sparling came on board to run the shop. Although he was mechanically adroit, he had no interest in tone quality, which is where Holtkamp's music talent came into play.
In 1914, the firm became Votteler, Holtkamp, Sparling Organ Company. In 1951, the company became simply Holtkamp Organ Company. His son, Walter Jr. "Chick," was head of the company in 1961 and retired in 1997. Walter's son, F. Christian "Chris," became a company partner in 1987 and has been president and managing director of the firm since 1995.
A few of the hundreds of Holtkamp installations include Juliard School of Music, Yale School of Sacred Music, University of Syracuse and the University of Notre Dame. To get a scope on cost of a Holtkamp, May Memorial Unitarian Church in Syracuse, N.Y., paid $31,380 for its new organ in 1964. Replacement cost in 2009 was estimated at $700,000. The Holtkamp company now employs about 20 skilled craftsmen who produce six to eight organs per year.
Henry Holtkamp's first little shop in St. Marys sat immediately east of the St. Marys newspaper office. That building was destroyed by fire many decades ago. The site is occupied now by the city utility office.