Friday, April 13th, 2012
Six local communities part of growing Tree City program
Last year Ohioans planted more than 28,000 trees
By Shelley Grieshop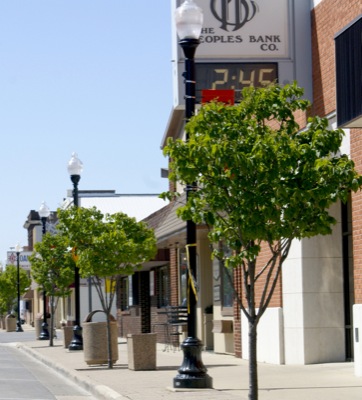 Thousands of new trees are beautifying area communities thanks to a successful nationwide program.
Tree City USA, which began in 1976, supports the planting of all types of trees and provides towns and cities with guidance regarding their care. Six local villages - Coldwater, Fort Recovery, Rockford, St. Marys, New Bremen and Versailles - all participate in the program.
"This is our 22nd year," said Chet Lore, a member of the Tree City committee in St. Marys. "For every tree we take down, we plant another."
Last year the committee planted 60 new trees in the city. One of the benefits is the picturesque look of the city's boulevards, he said. Shade is another. A recent study in Findlay showed that homes with trees were on average 10 degrees cooler in the summer, he said.
"They're also a natural wind block. In town, they can stop heavy winds," Lore said.
The city contracts with local companies at a reduced rate to perform stump removal, planting and other tasks for the Tree City trees, he added.
Ohio for the 31st year is the top Tree City USA state in the nation with 237 cities, villages and townships enrolled in the program, according to the Ohio Department of Natural Resources Division of Forestry.
"Half of Ohioans live and work in a Tree City USA and enjoy a variety of benefits that come with having more trees, such as cleaner air and water, reduced storm water runoff and increased property values, said Bob Boyles, state forester and chief of the ODNR forestry division. "The Tree City USA program also helps communities deal with urban forestry challenges such as the emerald ash borer."
Last year, Ohioans planted more than 28,000 trees, pruned more than 92,000 and volunteered more than 43,000 hours in landscaping. More than $39 million was invested toward urban forestry efforts across the state.
Participating communities must establish a tree board to carry out a tree care program, enact a community tree ordinance for direction, fund the community forestry program with an annual budget of at least $2 per capita and celebrate Arbor Day with a community ceremony and proclamation by the mayor.
Northwest Ohio members will hold their annual banquet May 9 in Rockford. Hosting the event this year are Coldwater, Rockford and Fort Recovery.
Fort Recovery has been a member of the Tree City program just three years. Officials are pleased with the results.
"We've planted probably close to 100 trees," village administrator Randy Diller said.
He also said the village receives valuable guidance on establishing policies for trees in the public right of way. The town previously had no protocol on such matters.
Tree City officials also help the town rate trees so they know which ones need to be taken down and what types will perform better in certain locations.
"Most of our old trees were in pretty bad shape. Some were oversized or just planted in the wrong place," he said. "It's pushed us to understand trees better and plant them in appropriate places."